Graphic Brutalism is the outcome of my bachelor's dissertation project, exploring the involvement and understanding of brutalism within our industry; it features input from designers and studios such as Mane Tatulyan, Tim Tijink, Daniel Zenker and Studio Quatrième Étage.
The cover design sets the tone for the book and its contents, aiming to emulate the texture and dimples of the large concrete structures often associated with brutalism. In production, the typeface choices of Neue Montreal and Editorial Neue were screenprinted first, before the dimples were pressed into the cloth material that encases the 52-page book lying within.
52pp
170x240mm
Screenprinted & debossed cloth cover
GFSmith Colorplan Natural 175gsm
Full project available on ︎︎︎Behance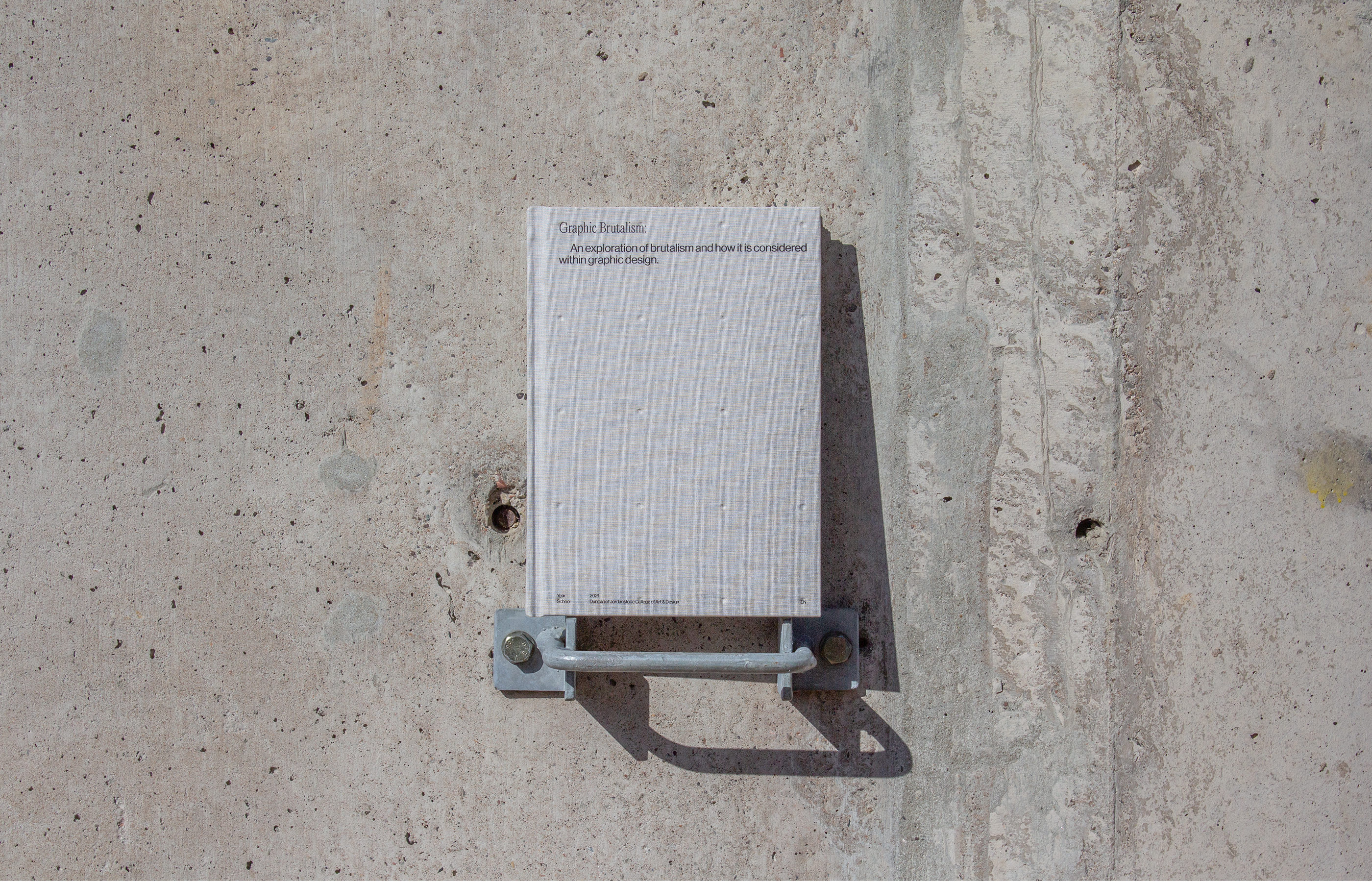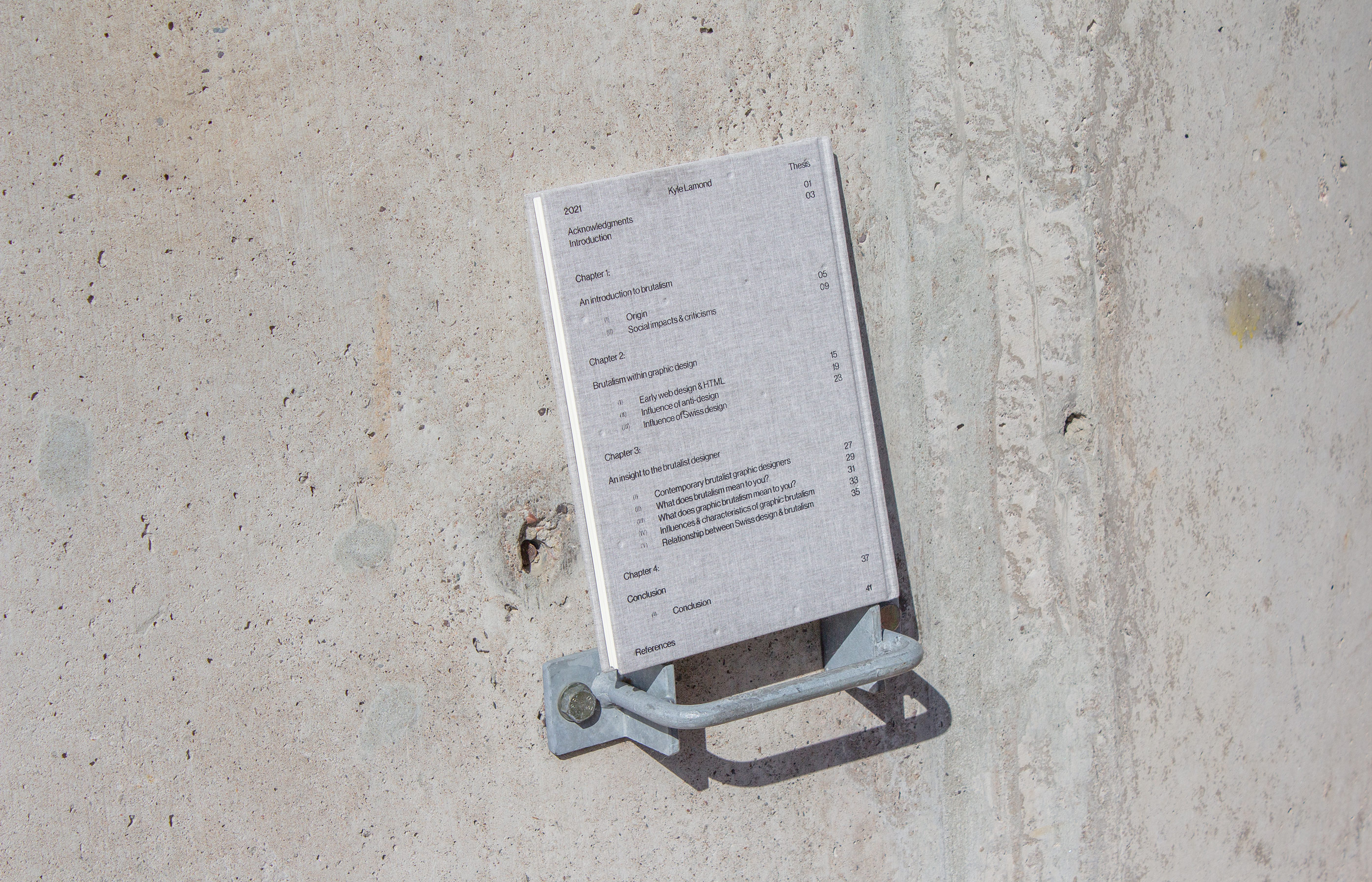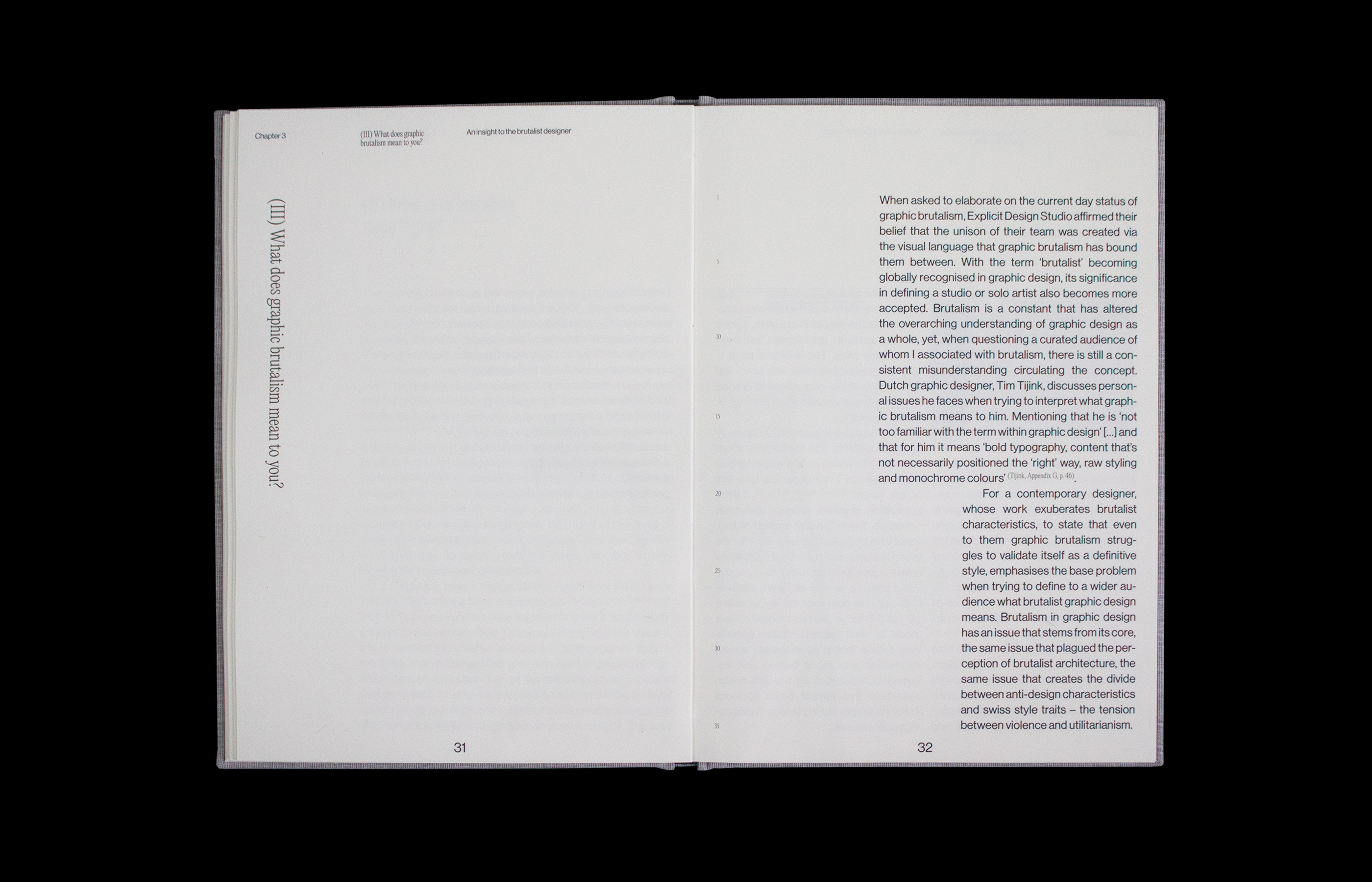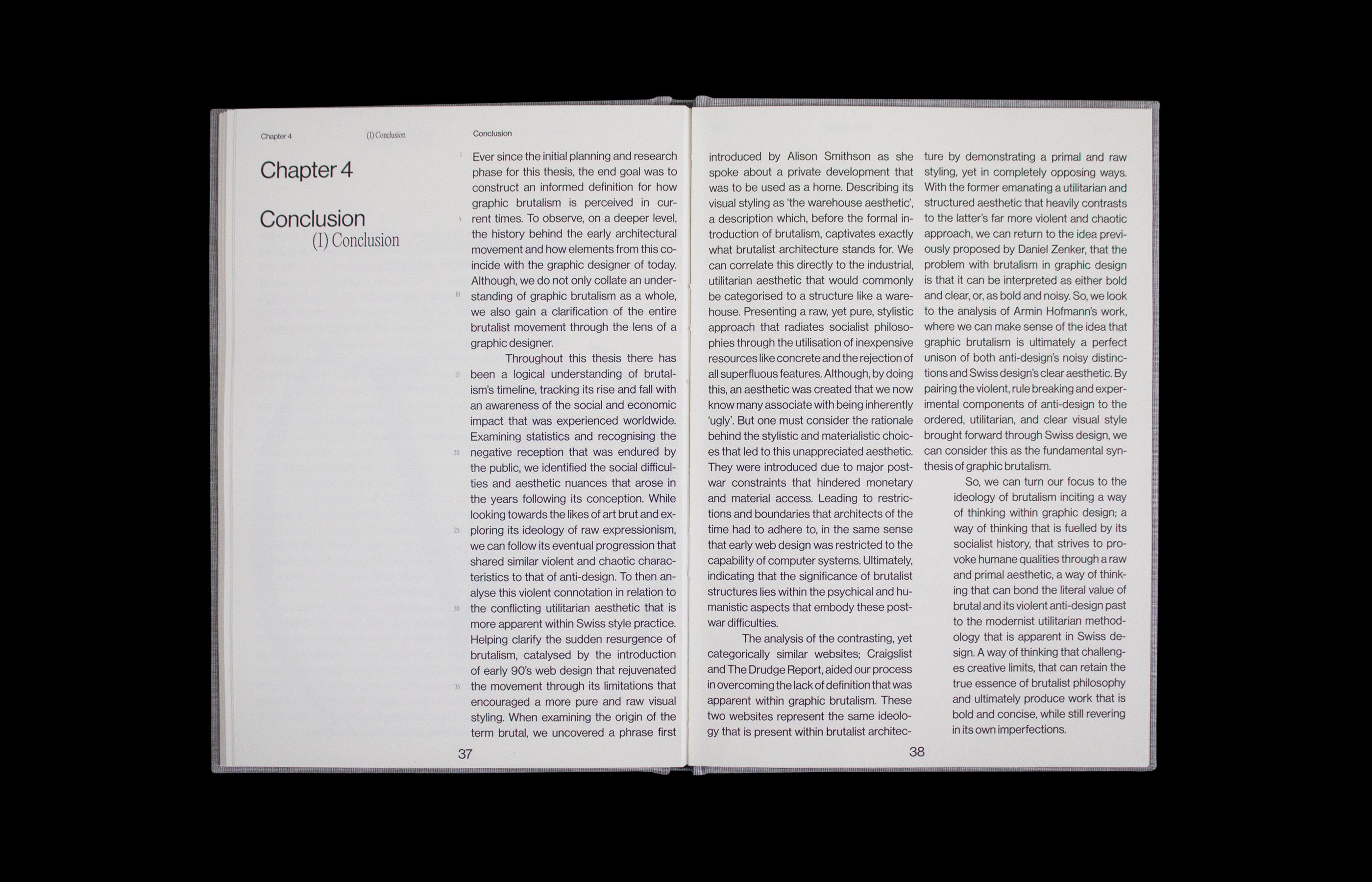 The 2021 Architecture Fringe embraces the theme of light, shadow and reflection - hosting a series of events specialising in each category.
The identity is designed to be flexible and adapt to different forms and environments. It communicates each element through a strong use of typographic visuals, print techniques, motion graphics and a minimal, yet impactful colour palette that relates directly to themes subcategories.
Art Direction
Branding
Typography
Print
UI/UX
Social Media

Full project available on ︎︎︎Behance


Jakey Teas is a small, recurring, publication that showcases some of Scotland's worst beige and basic scran. Inspired by the Twitter account @JakeyTeas, it takes a contrasting approach to the food in question with a clean-cut aesthetic, adopting techniques traditionally used within upmarket cookbooks.
Being another self-initiated brief, this allowed me to take full control of the art direction - including the design, photography, printing, and publishing.

48pp
126x184mm
50gsm Newspaper stock
Full project available on ︎︎︎Behance
Brutalist Scotland is an annual personal project of mine that explores a curated selection of some of Scotland's most precious pieces of brutalist architecture. With photography from Peter Atikson, this first version covers 6 brutalist structures that lay throughout Scotland - from the Matthew Building in Dundee to the Anderston Centre in Glasgow.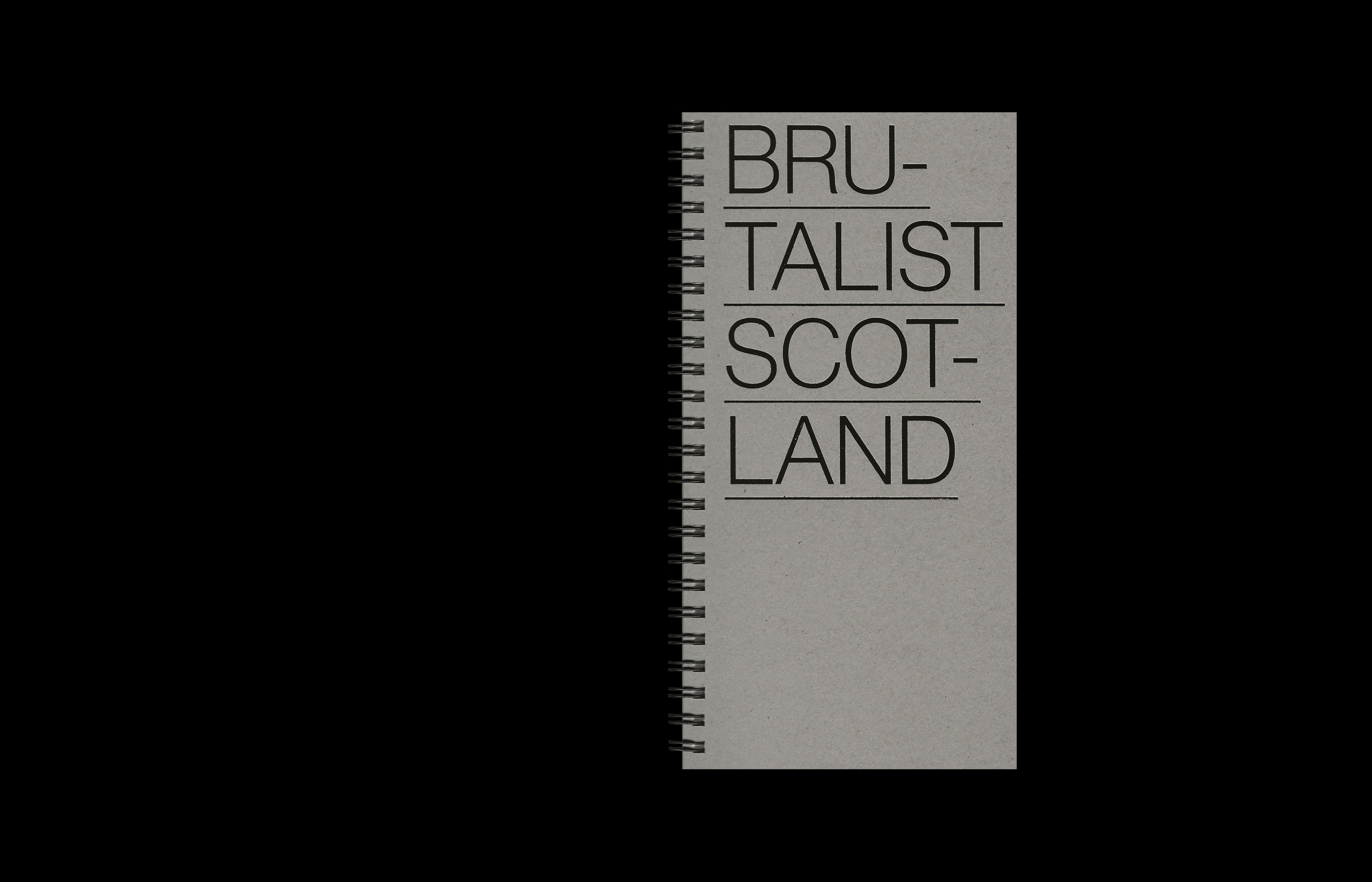 Kino-Eye Film Festival
2019
Kino-Eye® Film Festival is the outcome of a branding and advertisement project with the objective of promoting a classic film festival that exclusively revolves around a movement or film genre that was relevant pre-1960s.
My research and personal interests lead me to arrive at 'Kino-Eye' - a concept within Documentary Film making that focuses on the idea of the camera lens portraying a more accurate representation of life than the human eye
Art Direction
Branding
Typography
Print
UI/UX
Social Media
Full project available on ︎︎︎Behance
The Rural-to-Urban Transect
2021
This publication was created in response to the 2021 ISTD brief 'Putting things in order'.
The Rural-to-Urban Transect is an urban planning concept that places all elements of the built environment in useful order, from most rural to most urban. This project takes you on a journey through each of the 6 zones, beginning with 'T1' natural areas as it transitions through our environment to the 'T6' city centers.

50pp
190x290mm
Dual Wire-O Bound
Full project available on ︎︎︎Behance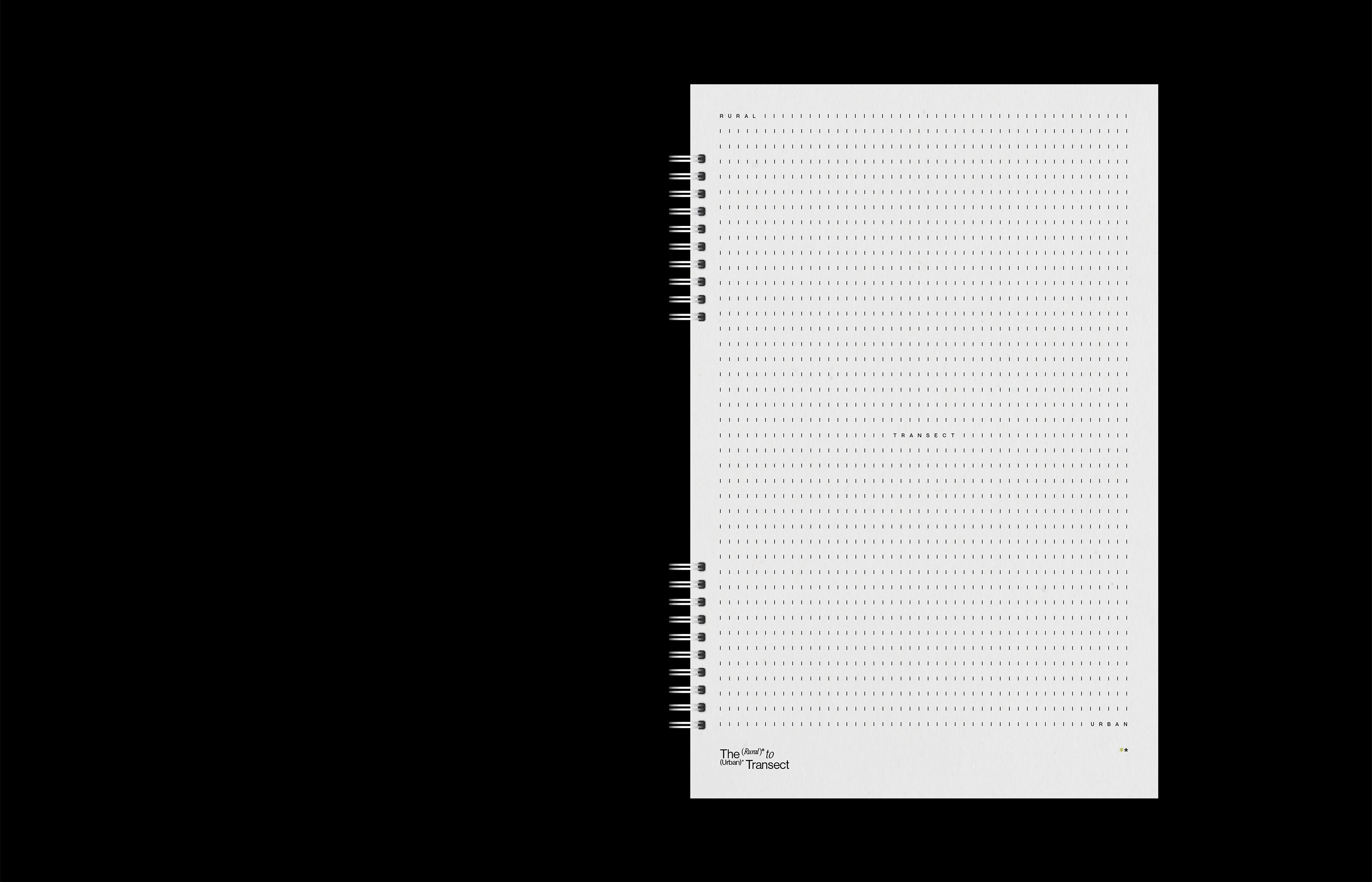 First City Events is an event management company based in Scotland that approached me to produce a new identity. The logotype makes use of a modern, sans-serif, customised typeface directly linking to the urbanisation we associate with a city environment.
Utilised alongside a minimal duo-tone colour palette that has been adapted to work as a gradient, it acts as the key identity throughout all individual elements.

Art Direction
Branding
Typography
Print
UI/UX
Social Media
Working alongside Glasgow based agency 'Good Creative' I was tasked with the brief of creating a brand for the greater good.
My response to the brief led me to produce a brand I named 'safeskate' which aims to raise awareness of the creativity, personal growth and skill that can be found within skateboarding. Safeskate does this through the utilisation of a mentor programme that can help guide this younger audience through lessons and other group-based activities.

Art Direction
Branding
Typography
Print
UI/UX
Social Media
'ALIEN' is a University brief I took on during my third year which allowed me to challenge myself within creative fields I was not very familiar with.
I took a direct 3D typographic approach that is easily understandable for a general audience. The type makes use of an 'alien' like texture that ripples and distorts as the light and shape move across the screen. These elements were created within Cinema4D and allowed me to gain further knowledge and skill with this external piece of software.

Art Direction
3D
Motion
Typography
View the full title sequence on ︎︎︎Vimeo